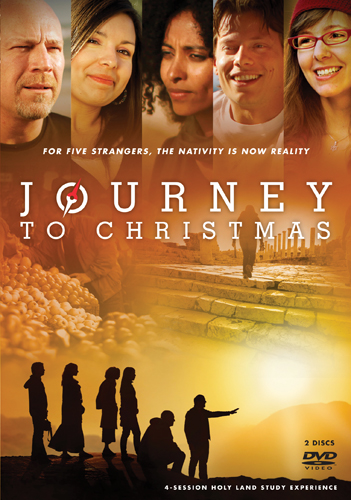 Journey to Christmas is a fascinating new reality DVD series that invites you to explore Jesus' birth through five modern-day explorers. Shot on ultra-high-definition film and packaged as a four-part DVD church curriculum, this unique study series chronicles the experiences of five very different people—a messianic Jew, a First Nations woman, a poet, a Christian radio personality, and an agnostic lawyer—as they journey through the Holy Land to discover the true meaning of Christmas. Guided by a local historian (Nizar Shaheen) with on-camera commentary from a team of Bible experts (astronomer Dr. Hugh Ross, ancient history expert Dr. Paul Maier, archeologist and New Testament scholar Dr. Craig Evans, Biblical times culture expert Claire Pfann, and others), viewers will see the Christmas story unfold though the eyes of each member on this unique pilgrimage. Journey to Christmas lets you immerse yourself in the culture, places, and people surrounding the Nativity. Stunning photography, a reality show format, exotic locations, and fascinating commentary from a team of Bible experts make this an unforgettable Bible learning experience!
I decided to review this DVD because I thought it would be interesting and I couldn't pass up seeing some great sights of the Holy Land.
The five explorers: Kim, Rory, Nazreth, Drew and Dusty, were pretty much every-day people coming from different backgrounds with similar questions about the true meaning of Christmas. I think I understood Drew best, having been a cynic for much of my life.
Were their questions completely answered? Well, you will have to watch the DVD to find out.
I went through the provided study material and found it good. It leaves enough room to bring about discussion on not just the explorers but also about who Jesus is, the archeological findings and what the true meaning of Christmas is to each person.
The scenery and places where the series was shot was wonderful and only heightened my desire to go to the Holy Land. But, I might have to pass on riding on a camel.
This is a beautifully filmed series that will be worth reviewing over again. It is suited for a small group study and will not only delight the viewers but will also bring them to a better understanding of why we celebrate the birth of our Savior.
List Price:
19.99
ISBN:
978-1-4143-6508-4
Trim Size:
Binding:
2 DVDs
Release:
December 2011
This complimentary DVD series was provided by Tyndale House Publishers for review purposes.