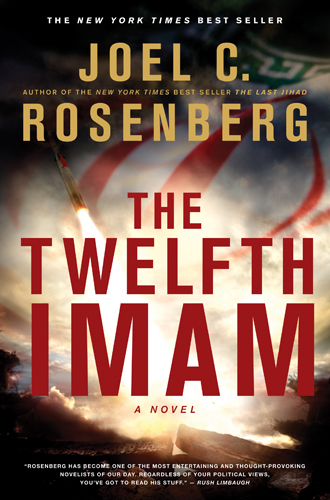 If you are looking for a book full of drama, intrigue, suspense and hope, then this is the book for you.
The Twelfth Imam by Joel Rosenberg is not your average book of intrigue. It's more. He gives you a look into a life, culture and religion that you would probably never see otherwise.
His characters are so alive and the story is so riveting that you are compelled to turn the next page to find out what else is going to happen.
The plot is taken right out of the daily news headlines. David Shirazi is a CIA operative with one objective, to stop Iran's military nuclear weapons program and their plans of a first strike.
If you know nothing about the Islamic religion or if you are most knowledgeable about it, Rosenberg is sure to surprise you with his knowledge of the subject. And you will be surprised as to who really believes in the Twelfth Imam and who is a secret follower of Jesus Christ.
So grab that cup of coffee, sit back and be prepared to be thoroughly entertained by Joel Rosenberg and his cast of characters in The Twelfth Imam. You won't be disappointed.
.... Is there a sequel in the near future? I can only hope so!
A little about Joel Rosenberg......
He is the New York Times best-selling author of The Last Jihad, The Last Days, The Ezekiel Option, The Copper Scroll, Dead Heat, Epicenter, and Inside the Revolution, with more than 2 million copies in print.
This book was provided to me by Tyndale Blog Network for the purpose of reviewing. I am under no obligation to provide a positive review. Everything I have said is of my own opinion.