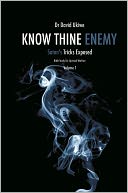 About the book:
The Holy Spirit through Apostle Paul tells us not to be ignorant of the devices of satan. The word "Ignore" is the root word from which we get the word "Ignorant". However, people have been taught incorrectly or misapplied the teachings they heard about dealing with the kingdom of darkness. Some people think they have to ignore satan and go on with their lives because he has been defeated and wouldn't bother them. The other extreme is those who are kind of paranoid, are too conscious of satanic activity and focus excessively on fighting him as if they were trying to win the war. But the victory has already been won by Jesus, all we are doing is enforcing the victory and maintaining law and order.

In this book, Dr David Ukiwe takes you on a journey in scriptures to unravel and expose the tricks of the enemy. He uses bible stories and contemporary illustrations to explain how the kingdom of darkness operates and how to successfully wage spiritual warfare. He shares step by step how The System works, and encourages you to believe that you can overcome the challenges of life. You will learn about:

• The mission of the kingdom of darkness.
• The enemy's weapons of warfare.
• How the enemy influences your choices and decisions.
• The benefits of controlling your thoughts and emotions.
• How to use "spiritual Intelligence".
• How to overcome discouragement.
• Satan's inferiority complex.
• And much more.

This handbook which includes a bible study guide for personal and group study is guaranteed to help you live an overcoming and victorious Christian life if you apply the principles therein.
About the Author:
Dr. David Ukiwe is a medical doctor, bible teacher and author. He has been involved in teaching ministry for over a decade. He has a unique gift of sharing bible principles in a down to earth, easy to understand and practical manner. He is passionate about the deliverance of the oppressed and to help people fulfill their God-given destinies.
His previous books include: "Above Only" and "Goodbye Failure."
He lives in the Bay of Plenty area of New Zealand where he practices his profession.
Here is my review:
Practical, biblical, straight-forward and much needed in our walk with God, Know Thine Enemy: Satan's Tricks Exposed is a must read Bible study for every Christian.
I have been a Christian for a long time, I have read many books on Spiritual warfare, yet, this is one book that is worth the time to read, study and definitely apply to my life and for all other Christians to read and study.
Using practical, Biblical application, Dr. Ukiwe reveals the tactics of the enemy of our soul and shows us how to apply Biblical truth to stand stronger in our faith in the One who has already overcome the world.
Written in easy to understand language without all of the twenty-five dollars words some theologians like to use, Know Thine Enemy is a tool for Christians to use and expose how the enemy would try to bring them down.
At the end of each chapter, Dr. Ukiwe reinforces what was read with a question and answer section to be filled out. He also includes a small section called "Pause and Ponder" that allows for some truthful self-examination on how we may have allowed the enemy to have control.
This book is subtitled Volume 1, and that excites me because I know Dr. Ukiwe is working on another volume for all of us to read, study and be armed against the tactics of the enemy of our soul.
Know Thine Enemy is one I recommend for all believers of Jesus Christ. This book was graciously provided by Dr. Ukiwe for the purpose of review. Thank you Dr. Ukiwe. This is one book I will read and study again and again.