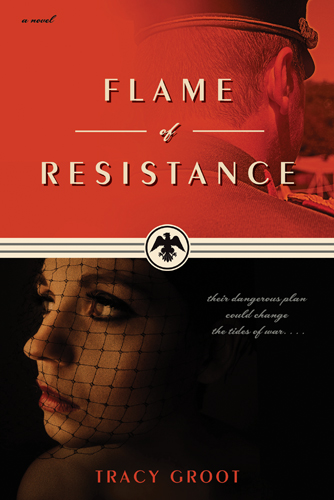 Christy Award Winner Tracy Groot Revitalizes World War II History with "Impressionistic Retelling" of the Story of Rahab
Tyndale House Releases Flame of Resistance in June.
Nazi occupation has stolen much from Brigitte Durand. Family. Freedom. Hope for a future, especially for a woman like her. Forced to turn her home into a Germans-only brothel to survive, Brigitte clings to patriotism by sneaking bits of food to the French Resistance and the downed airmen they're hiding nearby.
When American fighter pilot Tom Jaeger is shot down over France and picked up by the Resistance, he becomes the linchpin in their plan to leverage Brigitte's sympathy. By posing as a German officer, Tom can smuggle out critical intel she acquires from other soldiers about the nearby bridges, whose capture and defense will be crucial to Allied forces.
D-Day looms, and everyone knows invasion is imminent. But so is treachery. When loyalties are
betrayed, the life of one American pilot unexpectedly jeopardizes everything. He becomes more
important than the mission to a man who cannot bear to lose another agent . . . and to a woman who is more than just a prostitute, who finally realizes her courage could change the course of history.
Tyndale House Publishers presents Flame of Resistance, a stand-alone novel by Christy Award winner Tracy Groot. The novel, set in Normandy on the brink of D-Day, is an "impressionistic retelling" of the story of Rahab from the Bible (Joshua 2). Spies, prostitutes, Nazis, and Milice (the French equivalent of Gestapo) mix with calls of duty, crises of conscience, romance, and bombs bursting in air for a story centered on D-Day's spearhead action: the Allied capture of Pegasus Bridge. A series of events calls forth depth of character, demonstrating that "people come forward to show who they are in war." As the anniversary of D-Day approaches on June 6, Tracy Groot presents a moving work of historical fiction.
About the Author
Tracy Groot lives in Michigan with her husband and three sons. She is the author of The Brother's Keeper and Stones of My Accusers—which both received starred Booklist reviews—and Madman, a Christy Award winner that also received a starred Publishers Weekly review. Luckily, she and her husband own a coffee shop in Holland, Michigan, where a caffeine junkie can find acceptability and safe haven. Visit Tracy online at
www.tracygroot.com
.
Don't forget to "like" her on Facebook!
http://www.facebook.com/tracy.groot
Praise for Tracy Groot
"Beautifully written. . . . [An] entertaining and compelling book." Publishers Weekly, starred review of Madman "A gripping tale. . . . Her characters are exquisitely drawn, and the complex and convincing plot will mesmerize readers." Library Journal on Madman "Lyrical and affecting . . ." Booklist, starred review of The Brother's Keeper "Allusive and thoughtful. . . . A subtle tale that cleverly avoids retelling New Testament stories, instead forming a sort of commentary by telling parallel stories." Booklist, starred review of Stones of My Accusers
Read the first chapter! You'll be hooked!
My Review
Can I say riveting? awesome? exciting? suspenseful? How about Don't start this book unless you have time to finish it in one reading; because once you start you won't be able to put it down!
Tracy Groot had me spell-bound from the first page and kept me that way until the end. Her characters are powerful, alive and breathing. Brigitte Durand and Tom Jaeger are so realistic that you almost expect to go back in your history books and find them listed with other heroes of WWII.
I have been reading a lot of historical fictional works based on WWII and I have to say this is one of the best ones I have read. Well.... next to Tracy Goyer's work. Okay, okay, they are equally wonderful.
I wonder if I would perform as admirably as Brigitte does in a difficult time and situation, minus the brothel. She really stands up in the face of danger and possible death to help out Tom Jaeger secure vital information that will help the resistance against the Nazis.
All of the other supporting characters are strong and realistic as well, without being over-powering. They help round out the story with their personal stories and emotions that bring to life the French resistance against the Nazis and their pride in their beloved country. A simple wedge of cheese not only brings tears to the eyes of those who are going to partake of it but help bring unity to the most unlikely group of individuals. (You will just have to read the book to know what I'm talking about.)
A family home turned into a brothel for German officers becomes a place of espionage and danger for those who are part of the French resistance group Flame. And Brigitte finds help from those she never expected help from.
Flame of Resistance is truly a wonderful novel well worth reading over and over again. The discussion questions in the back of the book are great as well. They are a wonderful way to not only discuss the characters of the book but talk about personal reactions with your book club.
This review was made possible by Tyndale House Publishers, Inc. They freely provided me with this review copy. I am under no obligation to write a positive review.