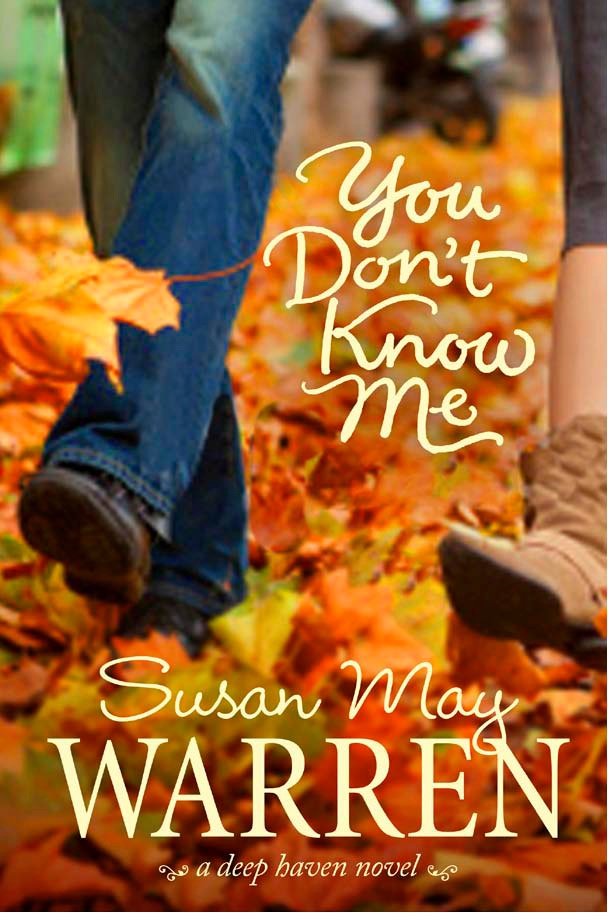 ABOUT THE BOOK
A Deep Haven Novel

Sometimes the secrets we keep to protect ourselves can be our undoing.

To all who know her, Annalise Decker is a model wife and mother. She's a permanent member of the PTA, never misses a sporting event, and is constantly campaigning for her husband's mayoral race.

No one knows that Annalise was once Deidre O'Reilly, a troubled young woman whose testimony put a dangerous criminal behind bars. Relocated through the Witness Security Program to the quaint harbor town of Deep Haven, Deidre received a new identity and a fresh start, which began when she fell in love with local real estate agent Nathan Decker.

Twenty years later, Annalise couldn't be more unprepared for her past to catch up with her. When Agent Frank Harrison arrives with news that the man she testified against is out on parole and out for revenge, Annalise is forced to face the consequences of her secrets. Will she run again, or will she finally find the courage to trust those she loves most with both her past and her future?
ABOUT SUSAN
Susan May Warren is the RITA award-winning novelist of over thirty novels. A five-time Christy award finalist, a two-time RITA Finalist, she's also a multi-winner of the Inspirational Readers Choice award, and the ACFW Carol Award.

A seasoned women's events speaker, she's a popular writing teacher at conferences around the nation and the author of the beginning writer's workbook: From the Inside-Out: discover, create and publish the novel in you!.

Find out more about Susan May at http://www.susanmaywarren.com/
READ AN EXCERPT HERE!
BUY THE BOOK HERE!
MY PERSONAL REVIEW
Do you really know the person you are married to? What secrets are you harboring that may affect the ones you love? Susan May Warren addresses these questions in her novel

You Don't Know Me

by telling a compelling story of the life of Annalise Decker.
From a conversation Susan had with a woman on an airplane, the story of Annalise was born. Placed in Deep Haven

, Annalise begins her new life.
I was happy to return to Deep Haven and meet Annalise and her husband, Nathan Decker. Deep Haven is a wonderful little town. The first time I read about it was in Susan's novel My Foolish He

art.

So it was great meeting the folks of Deep Haven again. Hmmm... I think I will have to read that

book again!
I found the story of Annalise to be heartbreaking in so many ways. She lived in constant fear that the person she testified against would find her. She couldn't contact any of her family. She was afraid to tell her husband who she really was because she was worried

he would hate her.
Her teenage daughter was heading down the same path that she took and yet she couldn't really tell her daughter why the fella she was

interested in was bad news.
Nathan had secrets of his own that he was afraid to share with Annalise. It had to do with his campaign for the mayoral office. Also, he wanted to erase the bad taste the name Decker created in his own mind and as he perceived it, in the minds of

those in Deep Haven.
Secrets and fear of rejection bound this family in so many w

ays.
Susan wrote another great novel and through the telling she shows her readers the necessity to be truthful and honest with the ones we love and if we are honest with others we will be surprised

with the outcome.

This review was made possible through Litfuse Publicity Group. They provided me with a free review copy.
READ MORE REVIEWS HERE!
Win a $200 Weekend Getaway from @SusanMayWarren! RSVP for Facebook Author Chat Party on Oct. 23rd!
Welcome to the campaign launch for Susan May Warren's latest offering in her beloved Deep Haven series, You Don't Know Me.
Susan is celebrating with a $200 Weekend Getaway Giveaway and hosting a fun video Author Chat Party!
One fortunate winner will receive:
A $200 Visa Gift Card (Use that to catch up with a loved one and "Get to Know" your spouse, friend, sister, mom…whomever!)
The entire set of Deep Haven Books
Enter today by clicking one of the icons below. But hurry, the giveaway ends on October 22nd.
Winner will be announced at the
"You Don't Know Me" Author Chat Facebook Party on 10/23
. Connect with Susan for an evening of book chat, Deep Haven trivia, and a live video chat! There will also be info about Susan's BookShout read-along and a chance to win gift certificates, books, and other fun prizes!
So grab your copy of You Don't Know Me and join Susan on the evening of the October 23rd for a chance to connect and make some new friends. (If you haven't read the books – don't let that stop you from coming!)
Don't miss a moment of the fun, RSVP today. Tell your friends via FACEBOOK or TWITTER and increase your chances of winning. Hope to see you on the 23rd!