How is it possible that it's August all ready? In some states the kids are getting ready to go back to school this week or next! Here in Forest Grove, kids go back to school the Tuesday after Labor Day. Which is just around the corner! Where has our summer gone?
Well, to help take care of the end-of-summer-blues, I am going to have a drawing for two great books....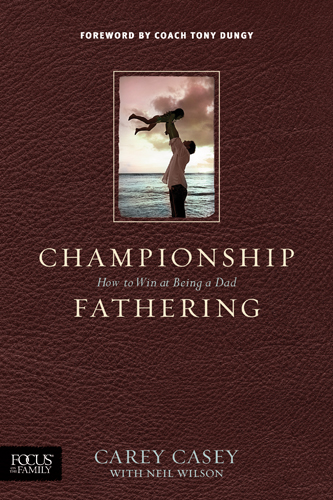 Now, I personally have not read either book. These were given to me by Tyndale House Publishers without any stipulations on what I was to do with them. So, I am going to give them away!
A little about each book...
CHAMPIONSHIP FATHERING: How to win at Being a Dad
by Carey Casey with Neil Wilson
On the back cover:
"Here's your ticket to the Hall of Fame. It's never been tougher to win as a father. You face a never-ending list of responsibilities, and your kids receive conflicting messages from the culture. It takes a real game plan to get your children to adulthood in one piece physically, socially, spiritually, and emotionally.
"Carey Casey's got the game plan. Using a lifetime of heart-touching personal stories and revealing research from the National Center for Fathering, he'll "school you up" on the most important - and rewarding - position you'll every play. Carey's three fundamentals of being an effective dad (loving, coaching, and modeling) present a proven playbook for the Championship Fathering team.
"Whether you're a fatherhood rookie or a field-battered veteran, this practical guide will change your whole family... and maybe even generations to come."
Here's what a few people had to say about the book (on the inside page)...
"I first knew Carey Casey as a young man, preparing to attend seminary, and have always had the greatest admiration for him. He has a deep love for people and a desire to lead them, especially young men, to Christ. I would highly commend to you any book written by Carey Casey. - Billy Graham"
"I've known Carey Casey for 30 yearas. He's truly one of America's most respected and trusted leaders. In Championship Fathering, Carey lays out three easy-to-follow, fundamental steps that will take every dad in the direction his kids and wife desperately need him to go. Carey is a true example. He is a fantastic dad and speaker and he loved God devoutly. - Joe White, Founder of Kanakuk Kamps and author of Sticking with Your Teen"
"Fathers today need coaches who equip them to be effective dads. Carey Casey wants to be your coach for a championship season. I want to encourage you to get this book and join his team. - Dr. Dennis Rainey, President, Family Life"
This is Carey Casey's Bio...
He is chief executive officer of the Kansas City- based National Center for Fathering. He served as chaplain for the 1988 Summer Olympic Games and several NFL teams and spent eighteen years with the Fellowship of Christian Athletes. He has also been copastor of a church in inner-city Chicago. Carey and his wife, Melanie, have been married for thirty-one years and have four children and two grandchildren.
SHATTERED: Struck Down But Not Destroyed
by Frank Pastore with Ellen Vaughn
On the back cover it says:
"One life shattered, one man saved. Cincinnati Reds pitcher Frank Pastore stepped onto the mound in Dodger Stadium to throw another fastball - something he'd done thousands of times since childhood. But this time was different. The batter connected and the ball came rocketing back to the mound, shattering not only Frank's pitching elbow - but also his dream of getting "rich and famous" through Major League Baseball...
This is a story of how the fragments of broken dreams can be reassembled into even bigger and better things. A story of how, when life's disasters and difficulties knock us down, they don't have to destroy us."
Here is what a few people had to say about this book (on the inside page):
"Frank has become one of today's leading Christian thinkers. Shattered is the story of how God worked in his life - the book will not only inspire and entertain, but it will also challenge each of us to grow in our own walk with God. - David Barton, Founder and President , Wallbuilders"
"Shattered tells Frank Pastore's amazing story of going from being a pro baseball player and an atheist to becomeing a fearless apologist and defender of the faith. Frank has a gift for taking the complex and making it understandable. He speaks and writes with passion. One of the best definitions of good communication is logic on fire. That is what Frank Pastore communicates, with great impact. - Greg Laurie, Senior Pastor, Harvest Christian Fellowship"
"Frank Pastore is not just the energetic host of a major syndicated radio show. But he is a complete testimony of the work of God. Shattered tells of Frank's compelling journey through pain and recovery to healing and wholeness in Jesus. It's a great read. - Dr. Carl A.Moeller, President and CEO, Open Doors USA"
Here's the bio on Frank Pastore:
He was the last kid picked in seventh grade PE but he went on to pitch eight years in the major leagues. He was never drawn toward academics, but he went on to earn two master's degrees in philosophy. He was a latchkey child, with a manipulative and dysfunctional mother and an emotionally distant father, but he's been happily married for over thirty years, with two great kids and a beautiful grandson. He was an acerbic atheist for twenty-seven years, but today he's the host of one of the most successful Christian radio talk shows in America. Shattered is a story of paradoxes. A story of how an unpredictable God can surprise any of us with His power and love and make beautiful the shattered pieces of our lives—even for those who don't believe He exists.
Okay! Here's how the drawing is going to work....
1.

Leave me a comment on which book you would like to win and who you are going to give it to (or keep for yourself) and why. That will give you one chance to win.
2.

Sign up to receive this blog via email and leave me a comment stating that you have done that. That will give you another chance to win.
3.

Become a Google Follower and leave me a comment that you have done that. That's another chance for you!
4.

Follow me on Twitter... you got it! Another comment and entry!
5.

One more way to win! Grab either one of my buttons and leave me a comment letting me know where it's at!
6.

Ok, here's the last way to win... Follow me on Networked Blogs and let me know, for another entry.
So that give you six different entries for the drawing. Don't forget to add your email address and the name of the book to each entry so I will know who you are and what you want! Remember to put your email address in a spam-proof way...... email [at] address [dot] com
If you want to try for both books then be sure to follow the rules for each book.
For you fellow bloggers... If you post this contest on your blog let me know via email... latawniakintz [at] gmail [dot] com with your link and I will give you two additional entries making it eight entries total for you for each book. Don't forget to let me know which book you are entering for!
Sorry, but this contest is for USA residents only.
So there you have it! The drawing will end August 31, 2010. I will contact the winner via email and the winner will have one week to contact me. Have fun entering the drawing and have a safe rest of the summer! God bless you all!