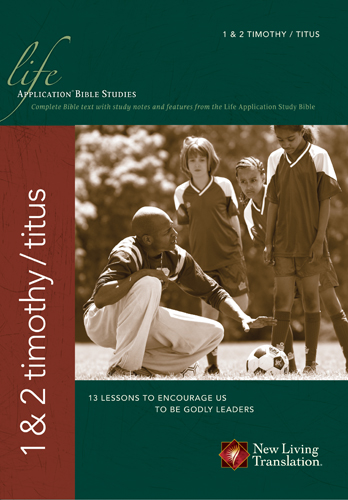 Life Application Bible Studies: 1 & 2 Timothy/Titus: 13 Lessons to Encourage Us to be Godly Leaders in the New Living Translation is the topic of this particular review.
Whew.... that was a mouthful. Okay.... Now I like Bible studies. In fact, I like Bible studies a lot! But sometimes I will get a hold of a Bible study that just looks intimidating. You know the ones I mean.... You pick it up at the local Christian bookstore, bring it home and then say, "What was I thinking?" Or maybe you ordered one online.... you go through the same process... get it in the mail, open it up and realize it wasn't what you were looking for.
There are lots of different Bible studies out there on the market today. It can be an intimidating process determining which study best suits your needs, especially if you are a "young" Christian looking for something to help you understand the Bible better and learn how to apply it to your life in a practical way.
Life Application Bible Studies: 1 & 2 Timothy/Titus in the New Living Translation is a real nice Bible Study. Personally, I am a New King James Version (NKJV) girl; having grown up with King James I still prefer that particular translation over all of the translations out there. But again, that's my preference. However, the New Living Translation is a nice translation, especially for those who are new to reading a Bible and have a little more difficult time with some of the more archaic terms in the NKJV. It's also a nice translation for anyone who wants to study the Bible in a more deeper manner, it can be used in conjunction with the NKJV or another translation(s) to help give you a more deeper understanding. (Of course the Holy Spirit is the One who opens our spiritual eyes and heart and ear.... if we just ask.)
This particular study 1 & 2 Timothy/Titus, also known as the Pastoral Letters is a good study for anyone to read and learn from. It addresses some very important issues that were and still are taking place in the church. It's a good foundational teaching that is beneficial to anyone in the church body, whether they are in training for leadership, parents, teachers, whomever.... and I say it like that, because even though someone may not necessarily be a teacher or leader of some type in the church, we should still develop our leadership skills since we are called to spread the Gospel, no matter what our station in life is.
This study contains 13 lessons in the back of the book. There you will "Reflect," "Read," and "Respond" to each lesson. I actually like how each lesson is broke down in similarly. Each area of the lessons (The three "R's") allows you to think about what's taking place now and what you just read. The study gives you lots of room to write (and if you're a wordy person like me, you need lots of room!)
At the end of each lesson there are additional questions that you can answer. This is to encourage the Bible student to dig a little deeper into the Bible and learn some more things.
One of the things about this particular Bible Study, Life Application, is it's purpose is to not only teach about the Bible, but the core is to show/encourage and apply each lesson to our daily walk with Christ. The one studying with the Life Application Bible Studies will grow in faith and in their Christian walk, which is what this is all about.
My three favorite verses from these three letters:
"For there is one God and one Mediator who can reconcile God and humanity - the man Christ Jesus." 1 Timothy 2:5 (NLT)
"All Scripture is inspired by God and is useful to each us what it true and to make us realize what is wrong in our lives. It corrects us when we are wrong and teaches us to do what is right. God uses it to prepare and equip his people to do every good work." 2 Timothy 3:16-17 (NLT)
"For the grace of God has been revealed, bringing salvation to all people. And we are instructed to turn from godless living and sinful pleasures. We should live in this evil world with wisdom, righteousness, and devotion to God." Titus 2:11-12 (NLT)
One more thing and then I might be done! The Life Application Bible Studies always include that particular portion of the Bible. It's like getting a piece of the Bible at a time and then you get to study that piece! You don't have to go out and buy a Bible in that translation (unless you want to), it's already there with the study. So again, if you are doing some deeper studying, you can use it in conjunction with another translation. I like to use it along side of my New King James Version, I find it does help me to see things better, sometimes.
At the beginning of 1 & 2 Timothy and Titus there is some very useful information for every student of the Bible to read. The Life Application Bible always has this at the beginning of each book of the Bible. It's to give us a better understanding. They are: Vital Statistics - which gives us the purpose, author, original audience, date written, setting, key verses, key people, key place, special features; The Blueprint (different for each book); Megathemes (different for each book). All of this is to help the reader better understand what he/she is reading. So be sure to read it! There might be some questions about it in the lesson!
Ok, enough said. It's a good Bible study and I would recommend this to anyone who wants to grow in their walk with God.
This book was provided to me by Tyndale House Publishers, Inc. I am not required to give any particular review of this book whether it be for it or against it. Everything I have said is of my own opinion.